Breaking Down Cobra Kai
It's hard to beat kicking back and talking about TV shows and movies you love with a good friend who gets where you're coming from. The only thing that makes it better is when you do it live on Facebook where other friends can join in. That's exactly what my buddy Travis and I did when we talked about "Cobra Kai" on what we now like to call "Quality Time With Tim and Trav."
If you grew up in the '80s, "The Karate Kid" was probably a massive part of your childhood. Just about everyone who grew up then saw it at one point or another — probably multiple times whether or not they enjoyed it (although I find it hard to believe anyone wouldn't). I've always loved the first "Karate Kid" movie — it was a staple of our era and a huge reason we were so excited to watch and review "Cobra Kai," which now has two seasons available to stream on Netflix.
For anyone who may not be familiar with "Cobra Kai," it takes place 34 years after "The Karate Kid" and flips the narrative on its head a bit. Instead of focusing on Daniel, the main character in the first movie who was mentored by Mr. Miyagi so he could face the bullies who trained at the Cobra Kai dojo, this series instead focuses on Johnny, who was essentially Daniel's biggest rival and meanest bully in the original movie.
Only now, Daniel has grown up to become the owner of a highly successful car dealership chain, is married, has two children, and lives a wealthy lifestyle. On the flipside, Johnny works as a part-time handyman living in a small apartment and has fallen from the wealthy lifestyle he had as a child. He's also got an ex-girlfriend, an estranged son, and a bit of a drinking problem.
Needless to say, Johnny is down and out on his luck, which now makes him a much more interesting character to follow than the bully he was as a preteen. The main premise of the show reveals itself when Johnny uses karate to rescue his teenage neighbor Miguel from a gang of bullies. Miguel asks Johnny to teach him his ways, which is when Johnny decides to reopen the Cobra Kai dojo, recapture his past, and revive his rivalry with Daniel.
Where We Stand
We won't beat around the bush: Travis and I have loved this show so far. We're so glad that Netflix picked it up for streaming this year after the first season was released on YouTube Red in 2018. We're fairly certain had Netflix not gotten their hands on it, it would have been buried and all of us "Karate Kid" fans would have missed out on it.
Now, just because we enjoyed the show immensely doesn't mean it was a perfect home run. But really, we were just looking to be as entertained by "Cobra Kai'' as we were by "The Karate Kid" when we were younger, and on that front, it did not disappoint. The cheesy acting, the nostalgia, and the way the creators flipped the entire story right from the get-go just worked for us.
Jamming on Characters
A lot of classic characters make appearances in "Cobra Kai," but there are also new characters to discover. The creators have essentially made Johnny out to be the new Mr. Miyagi, Miguel has become the new Daniel, and in many ways, Daniel shows up to become a bit of a bully. To be honest, neither Travis nor I realized how much we actually dislike Daniel! He's always been pretty cheesy, but I didn't realize until "Cobra Kai," that he's never been a great person. If you think about it, Daniel ruined Johnny's whole senior year in the first movie. That's the side of the story you don't see. But I suppose we wouldn't have loved the movie as much as we did back then if it were presented that way.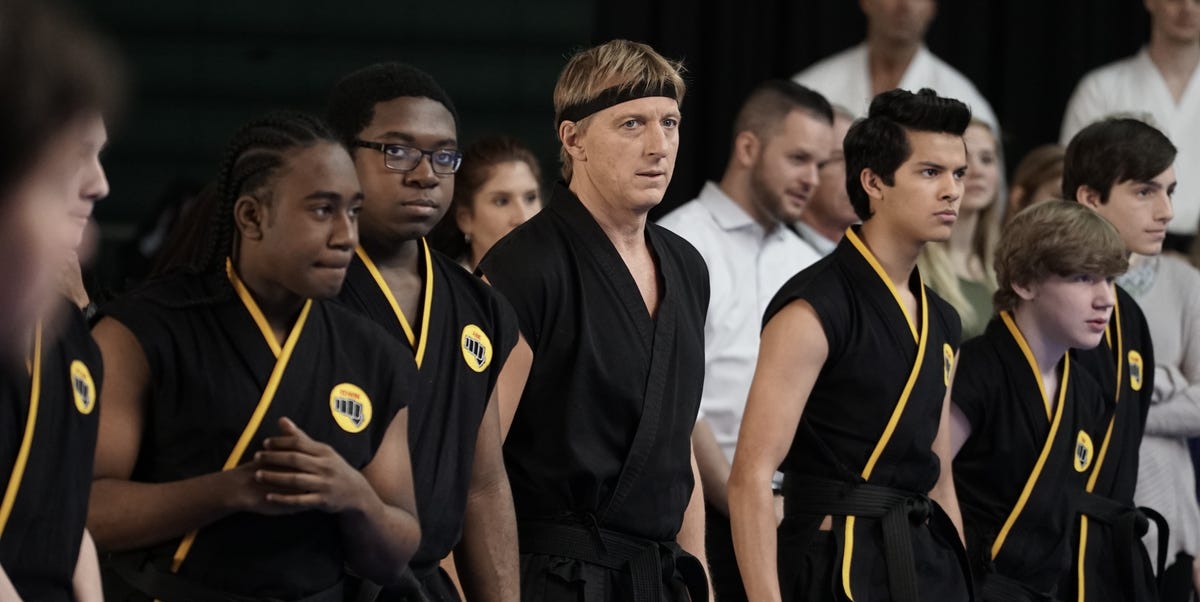 Let's jam on Johnny here for a bit. Last we saw him in that first movie, he was getting choked out by the sensei. Then in the second movie, they go off to Okinawa to deal with other people and Johnny doesn't reappear. It's exciting and refreshing to now get to come back to such a memorable character and explore him so much more. Part of the entertaining nostalgia we find in him is the fact that his character seems to have never left the 80s. He drives around in an old Firebird and is entirely unfamiliar with the internet, which adds to the hilarity of every situation. Plus, the Cobra Kai commercial that he made was one of our favorite parts. It was completely hilarious. There are so many good one-liners throughout this show, by the way — and not just from Johnny.
The rest of the cast is a pretty solid mix of entertaining, unbelievable, sometimes annoying, but often hilarious characters. It's a motley crew that you come to love no matter how silly their scenes might get sometimes, and we're just fine with that.
Season 3 Predictions
Season 3 of "Cobra Kai" is coming to Netflix in 2021, and we'll be ready for it, even though I wasn't the biggest fan of the way season 2 ended. Spoilers are coming, so keep reading at your own peril.
Not only was it not fun to see Johnny twisted out of his own dojo, but the way he handles it was also a bit corny. He leaves his car, chucks his phone, walks away, and that's that. We realize it's fully intended to be a cliffhanger, so we can't help but pose a few questions and make a few guesses about what's in store: What's to become of the Cobra Kai dojo? Where is Johnny and Daniel's friendship headed? Will a trip to Okinawa be coming up, a la the second "Karate Kid" movie? Will Allie come back and cause trouble for Daniel? Will Miguel's dad make an appearance as a new character? There are a lot of different directions things can go, and our only hope is that season 3 of "Cobra Kai" doesn't bomb the same way the third "Karate Kid" movie did. (If you haven't watched that one, trust me, you're not missing anything.)
In Conclusion
"Cobra Kai" is just plain fun. The show hit us hard with some great nostalgia. It's a bit cheesy, is endlessly hilarious, and gets creative with character perspectives and relationships. Parents be warned, however, that it's not exactly the most kid-friendly show. It steps beyond the family-action realm that "The Karate Kid" inhabited in the '80s, but it can still be fun to watch with your kids like I did. Just know that they'll probably hear a few jokes and phrases that they may not have before.
If you loved "The Karate Kid" like I did, then hands down, you'll get a kick out of "Cobra Kai," in every sense of the word.
Born and raised in Southwest Florida, I have been in the Mortgage business since 2001 I'm a grizzly, battle tested mortgage veteran. I am also the Host of Rates & Reels, which is the most popular fishing show in Southwest Florida, hosted by a guy named Tim. In my spare time I love spending time with my family, coaching baseball, and anything else my kids or wife want me to do. I would be happy to help you or someone you know with any of your Mortgage needs.
Like Me On Facebook
|
Check Out My Fishing Show Rates & Reels
|
Apply Now
|
Twitter