Hello!
Several times a week I get asked about a commercial loan.
Commercial loans are not something we do at VanDyk Mortgage, BUT I can recommend a commercial lender to you.
His name is Nick Rinella from Bank United. He is located here in Fort Myers.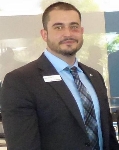 Phone: 239-277-3500
E-Mail: NRinella@BankUnited.com
I have referred several clients to Nick and also know other Financial Advisors and CPA's that use him. Nick does an awesome job and you can trust him with your referrals.
Hopefully this information will help you in the future in case you need a commercial lender.